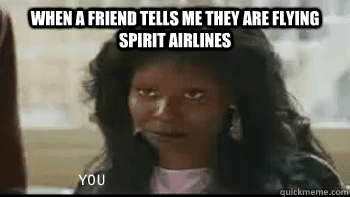 I was going to write this laundry list of how Spirit Airlines (@SpiritAirlines) SUCKS major big time, but I found the most awesome website that outlines everything you need to know about this fugged up, nickle and dime your azz to death, lying till their seats are on fire airline.
Spirit Airline Facts
Yes, Spirit Airlines can be, for some, the cheapest way to travel from point A to point B. To others it's a nightmare organization that has ruined vacations, destroyed business travel plans, taken money without offering agreed upon services and shocked unsuspecting travelers with hidden fees and questionably-ethical policies. According to the U.S. Department of Transportation's Bureau of Transportation Statistics, Spirit Airlines has seven times more official complaints against them than any other airline operating in the United States. Even the Secretary of the U.S. Department of Transportation has recently warned travelers that Spirit Airlines doesn't care about its customers.
While my recent flight itself was uneventful (it took off and it landed on time), everything about this airline that touts itself as the cheap, discount flight airline, there is NOT ONE DAMN THING CHEAP ABOUT IT – AT ALL.
Yes, my flight to Dallas was about $100 less that any other airline and there is where it ended. The got me this time – MY BAD. I will NEVER, EVER fly these bastids ever again. I went online to print my boarding pass and you can't - until you register for their "frequent flier" program and log in. From then on, you have to LOG IN every.single.time. I check in and I'm asked if I plan on taking a CARRY ON or checking any luggage? I check carry on. And then it starts, for $59/year I can save $10 on my baggage fee – but you still gonna pay. Let me get this straight…I give you $60 buck and SAVE $10 per bag per leg. I would have to take 3 flights in a year with them to break even AND I still gotta pay $30 for a MFn' CARRYON!
GTFOOHWTBS.
So, now the $100 I saved flying Spirit went up with the $40 ea way carry on fee. Minus $80. BTW, if you don't check in and print your boarding pass at home, they will charge you a fee…up to $8. Want a glass of water – $3. Soda, Coffee – $3. Snack, Sandwich – up to $15. Shall I go on?
Want to pick your seat? from $12-$25 depending on the type of seat. Traveling with your S/O and want to sit together? You BETTER pay for your seat or you will most definitely will be split up. Watched it go down over and over and over on my flight.
Seats DO NOT recline and actually that is a good thing because  there is absolutely NO ROOM. NONE. There are ads on the tray tables, they market a credit card to you on the plane, giving away enough points for 3 flights – getting you for interest on the card and more fees to use those miles.
The acquisition cost suckers you in and after you are stuck, they collect the rest of the money from you. You end up not saving a damn thing.
Spirit Air ain't got no spirit, no they don't. Fly @SpiritAirlines at your own risk and the emptying of your wallet.