Monday (March 13th) was our first "At Sea" Day. You might think that you would be bored just hanging out in the middle of the Pacific Ocean; however, there was plenty to do - like absolutely nothing. Like I said before - I want to become a proficient connoisseur of the Art of Doing Nothing. Valerie and I had a private pass to the spa deck, so we spent the morning laying around there with our mugs of "the purple coolaid". Val brought a bottle of Grey Goose with her on board making it an absolute necessity that we create our own cocktails. Even in the South Pacific at 10 in the morning, we sincerely believed it was happy hour somewhere in the world. A little GG and OJ or Cranberry Juice is the breakfast of champions.
Ron and I both had the Hot Stone Massage and Ron was a sucker for the up sell. He came back with a bag of relaxation/muscle tension stuff. I told the woman that I could share Ron's stuff. No need to try and get me to buy the $300 Detox program. I have my girl Celeste from Celeste's House of Pain (my personal torturer - I mean trainer) to ensure that I am sufficiently detoxed and cleaned out. I've been there and done that (and will ABSOLUTELY need to do again after this cruise) with Celeste - and she will undoubtedly do it for a whole lot less and with glee! The Hot Stone Massage has got to be one of the all time best massages I have every had. Got turned out on it at the Green Valley Spa and was still looking for Moreen (yeah, that's how she spelled her name) and her stones later that night. Private Cabin treatment?
After the Massage, I went to meet Ron at the Champagne Art Auction (Ron's treatment was completed before mine) and it was truly world class. You can get some of the worlds top artists and collectible pieces that you would traditionally find at auction houses at Sotheby's, Christies and fine art galleries. You are able to buy the art on the ship at anywhere between 50-75% off the retail/gallery price because they can only sell the art while at sea, thus not competing with galleries on land. The Art Dealers/Auctioneers on board often go directly to the artists and contract with them for specific pieces. The reason the artists are motivated to sell their pieces this way is because they get considerable more exposure and viewings at cruise galleries vs. a land based gallery. For example, a land based gallery will typically have 75 to 100 people view a piece in a week, whereas on a cruise gallery can have as many as 75,000 people view their work in a week across all the cruise lines. They auctioned off works by Erte, Salvadore Dali, Picasso, Alexandra Nechitia (the petite Picasso), Bill Mack and much more. The even have sports memorabilia. Manny bid on (and he got it at the opening bid since nobody else bid on it) and won an Alexandra Necitia and Ron and I won bids on two of the Bill Macks.



If you ever though of buying/collecting appreciable art as an asset, the Princess Line of Cruise ships has an awesome collection at way below market prices.

The first at sea day was also the first formal night. We took some beautiful portraits which I'll have to show later. In all of the excitement we didn't take any pictures on my own camera. After dinner, we went dancing to the orchestra and watched a performance of a wonderful soprano. Dancing in a full length gown on a moving ship takes SKILL. A girl has to have skills.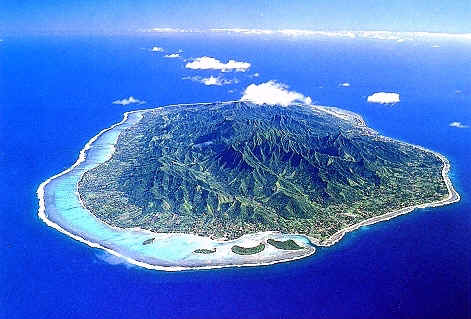 Yesterday (Tuesday, March 14th) we arrived in the Cook Islands at Rarotonga - the Kingdom of Tonga and the Samoas to the west and French Polynesia to the east. The Cook Islands lie virtually in the center of the polynesian triangle. Rarotonga is the capital of the Cook Islands and is a protectorate of New Zealand. Thus far we have been to France (French Polynesia - the Islands of Tahiti and Huahine) and New Zealand (Rarotonga). Fast damn ship. Rarotonga or "Raro" as it is called by the locals is a roundish, mountainous island covered in jungle. The island is surrounded by a protective coral reef and the water is an absolutely gorgeous turquoise. We didn't have anything special scheduled today so we caught the tender to the island and walked into town. Town was so small that you could walk from one end to the other is less than 5 minuets. We then caught the shuttle bus to Muri Beach.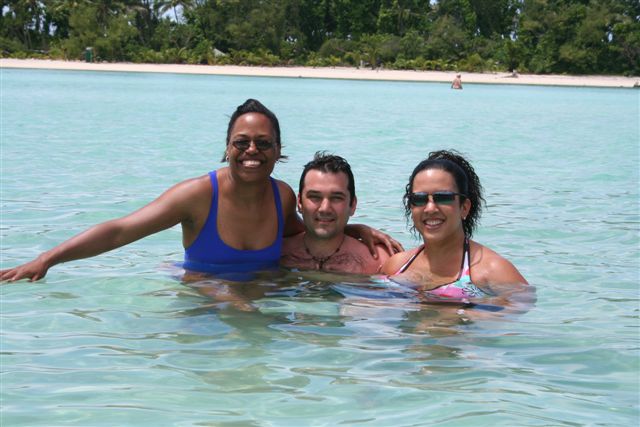 Muri Beach was exactly like I imagined the South Pacific to look like. The water was turquoise blue and warm as bath water. At this beach you could actually walk all the way across the lagoon to the 3 other atolls (or Motu's) off the beach. It was breath taking.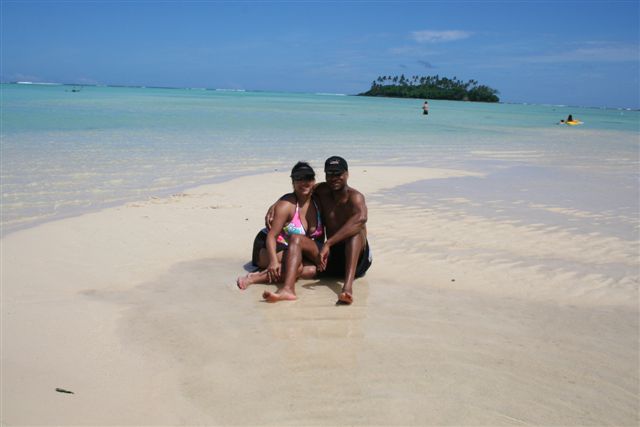 You can see the three motu's on the picture of the island above. Manny and I tried to walk/swim all the way to the smallest but most lush atoll and got about 30 yards out before we came across a barrier of rocks that without shoes, we just could get past. I started having a small hissy fit about how the rocks were hurting, etc, etc. Unfortunately, Manny did not buy into the hysteria and told me to "Just Stand Up" - the new mantra whenever hysteria started to cast its shadow on an event. Despite the long walk that didn't get us anywhere, we had a blast.

We are "At Sea" again tomorrow (Wednesday - March 15th). Talk to you later.