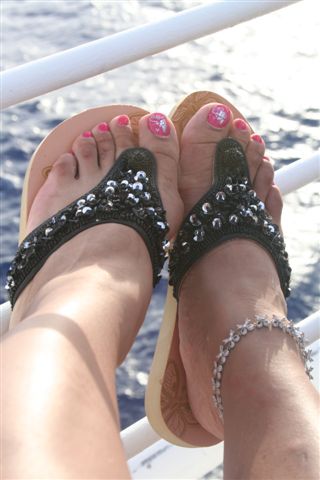 I was up at sunrise to view the sun coming up over this beautiful island. Huahine, pronounced who-a-hee-nee by the locals, is a perfect place to enjoy paradise in peace and solitude. It is virtually untouched by any signs of tourism. Huahine is actually two separate islands and the tow halves are connected by a narrow bridge. It is the only road that connects the two islands and you could see children jumping off the bridge into the bay for fun. Legend has it that Huahine was split when Hiro, the great Polynesian warrior and god of thieves, ploughed through the island with his mighty canoe creating Bourayne Bay on the west and Maroe Bay on the east.
It is also know as "The Garden Island" for the lush foliage and tropical landscapes. I don't think I have seen a great as beautiful. Ron and I spent the day at Avea beach just hanging out. Manny & Valerie went on a sacred sites island tour. Huahine is home to some of the most extensive and earliest know archeological sites in the Society Islands. There are several ruins of stone temples and other finds.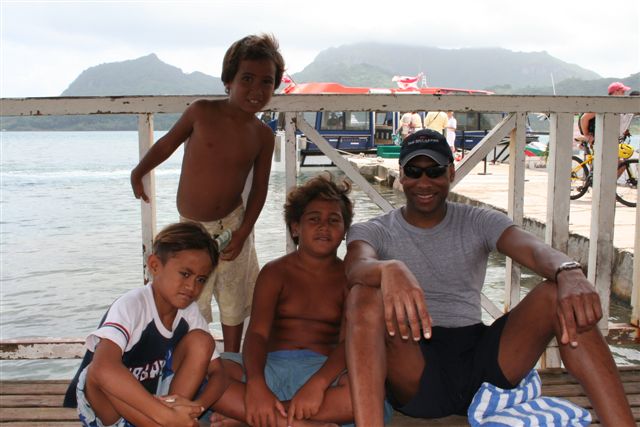 Ron was real popular with the local children. While we were waiting for the outrigger to take us to the beach, the kids kept asking (rather pointing) for Ron to flex his muscles - they wanted to see Ron's fire up his guns. The national sport is canoe racing - from island to island (4-5 hours) so the men have very strong, muscular arms.
Among almost all the islands, the women out number the men and is a very matriarchal society. The women are running things! Here's some food for
thought: Paradise, beauty, no crime, peace & solitude - Women running the place; War, genocide, terrorism, general nastiness - Men running the place. HMMMM. THAT'S WEIRD!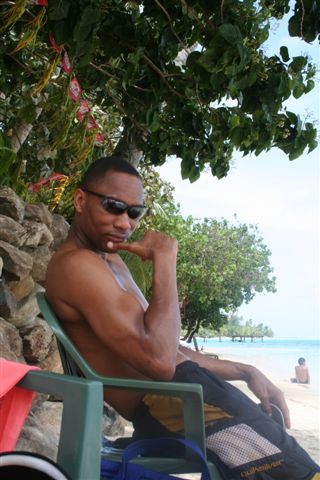 It was a very relaxing day at the beach. Ron just hung out reading his usual Business Week or some such magazine. I worked on my black girl - but had to be careful so as to not end up looking like a cooked lobster. After we got back to the ship we went up on deck to watch the ship pull out of the bay. The sun was setting over the mountains and you could not help but feel the majesty of God. Only His hand could have created such beauty. Breathtaking.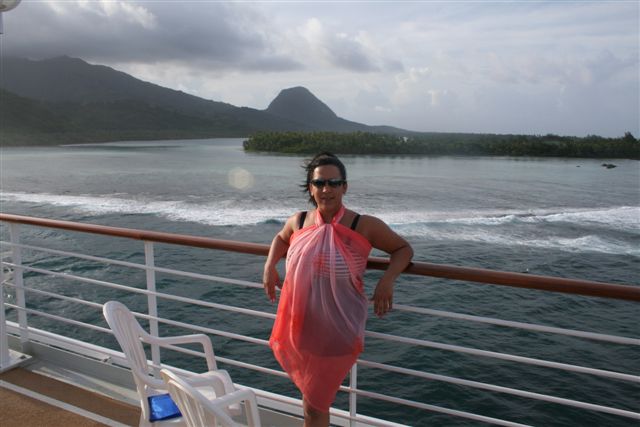 At dinner, they sang Happy Birthday to Valerie and I and sent birthday cake to the room. Ain't that nice. We watched a rather dull cabaret show...Ron seemed to like it - I fell asleep when Peppe Le Pew and a Cat came dancing out on stage. There was just something not quite right with that. Tomorrow is an "AT SEA" day, so I'm spending the day in the spa. Hot Stone Massage here I come.