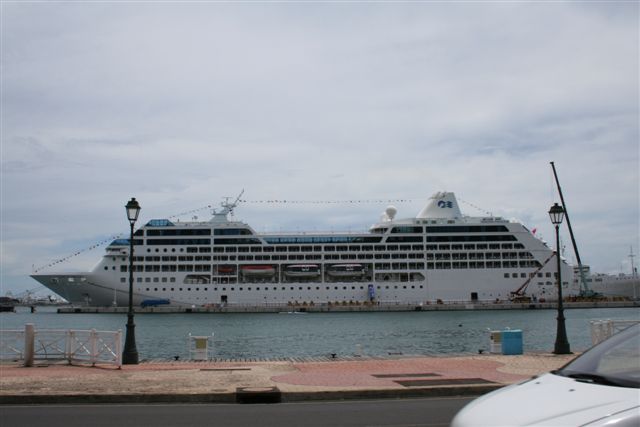 Welcome Aboard The Tahitian Princess - Hina Tei Po Te Marama (Hina Goddess of Light) - March 10th, 2006
Iaorana (Hello) Family and Friends,
It is so fun going on a cruise with friends that have never cruised before. Ron and I felt like we were hosting our good friends and sharing all of our past joys and experiences. The ship is simply world class elegant. Everything is "just so" and the staff is wonderful. It was awesome to watch Valerie Ooh and Aah over the suite. Our suite is on deck 8 (all suites w/balcony) and are all about 400 sq ft. with balcony. Larger than a lot of hotel rooms I've stayed in. There is enough room to spread out and have guests over. After checking out the room, I immediately hustled Valerie over to the Lotus Spa where we signed up for our spa treatments for the duration before they got all booked up. We toured the ship and had a drink before we decided to head into town for some Tahitian Black Pearl Shopping.
We spent the afternoon going from shop to shop looking at these beautiful pearls. We were so surprised about how the people don't harass you on the street to come into their store (like in St. Thomas) or badger you while in the store. Most merchants were extremely helpful, proud of their pearl selection, and protective of their reputation. One store gave us a chart from the Gem Institute that told us how to choose a pearl, the gimmicks that disreputable stores use and also a measuring tool so we could measure the diameter of the pearl. We were always allowed to take the pearls outside so we could see the rainbow and/or how translucent the pearl was. The rainbow of colors is just beautiful. The Black Pearl is anything but black. Awesome.
After a few hours and a beer, we settled at the Tahitian Pearl Market. Manny spent an hour going thru a box of loose pearls, finally settling on two grey/purple pearls about 9 mm in diameter each that he is planning on setting as cuff links. I picked out a very unique bracelet and matching earrings for myself. Valerie and I were looking in another case at some nice pieces and simultaneously said "Sandy" as we pointed to a piece. I can't give it away, since she is reading this, but this setting has 3 different color pearls and has more than one use. Mom - your gonna love it, so please remove the duck tape off of your granddaughter and let her out of the utility closet. NOW!

On our way back to the ship, we stopped at a "flea market" where a lot of locals had their crafts displayed. Ron (of course) saw this little Tahitian outfit and it was a "Cara Must Have". Valerie insisted that I negotiate this time. I'm really bad about that - just put the stuff in the damn bag. Furthermore, it can be difficult to haggle if the only language the person speaks is French or Reo Mao'hi (Tahitian local language). Using my limited Frenchglish I got her down from $15 to $12 before I was exhausted. Valerie gave me a high five for the effort.


Well, we get back on the ship and they know (cause I put it on my cruise planner) that I'm celebrating my 40th Birthday. .
Jeffrey, our Cabin Steward, delivers a bottle of champagne and some scrimp snacks before dinner. While at dinner, Jeffrey decorated our door with balloons and there was a plate of chocolate covered strawberries in the suite. I definitely can live like this. Jeffrey also wisked off my long dresses to be pressed ("of course, darling") and checked on my laundry needs. Well, slap me silly again. Where will Jeffrey be when I get back to reality.
Tomorrow, we have my birthday Champagne Breakfast in our suite, a official group tour of the Island of Tahiti and the city of Papeete (one of several islands in the French Polynesia), and then Bon Voyage for the island of Huahine.

Till Tomorrow...Nana (Good Bye)