Family & Friends -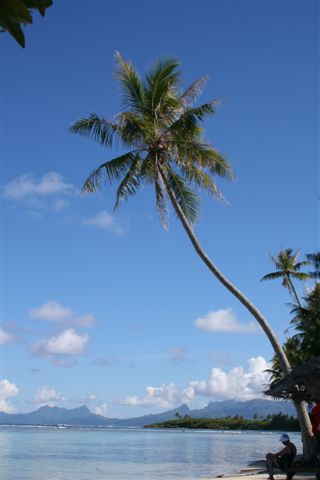 Welcome to Raiatea, considered the most sacred of all the Society Islands. Legend has it that Oro, the god of war and fertility was born atop Mount Temahani on the northern end of Raiatea. Raiatea is the second largest island in French Polynesia. Across the lagoon is the island of Tahaa. Several small pearl farms dot the warm, clear waters of Tahaa.
Today, Manny and I started the day off with a morning dive. You'll see later that it looks like Manny and I just rolled right out of bed and onto shore for this dive. The photo staff took pictures of us getting off the ship and DAMN - mornings are just not my thing - even on vacation. The ride out to the dive site was beautiful. We anchored and as we started to put on our equipment, about 6 reef sharks came calling to see if we were going to be breakfast. Not to worry, they turned ot to be just curious and we ended up diving among about 10 reef sharks that came so close you could practically touch them. I really hope the pictures come out. It was awesome. We saw huge moray eels, trumpet fish, angle fish and more. There were times that I felt like I was actually in the movie Finding Nemo. Just incredible. Manny and I have two more dives coming up in Bora Bora.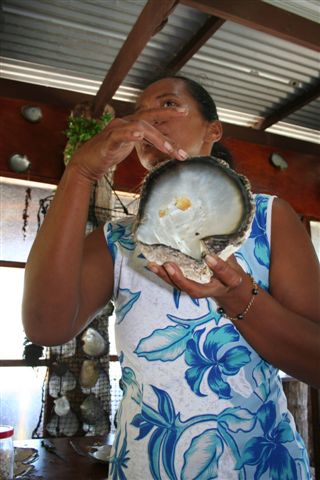 After the dive, Manny and I made it back to the ship to pick up the sleepy heads for our Pearl Farm Tour and Motu Beach Excursion. At the pearl farm, we had a lecutre on how black pearls are created. Bottom line - it is a long, expensive process - a lot of damn work - for a 8 mm pearl. This one family had 23 pearl farms and are now down to only 3. The owner told us that if you want to be a pearl farmer, you need to be rich. Here are some highlights:
- You need approx. 200,000 black lipped oysters just to start a pearl farm. Mountainous islands have to buy their baby oysters at about $2 each. Cash Only.
- You will lose approx. 20-30% of your baby oysters during transport
- It takes 8 months to nurse your oysters to maturity, with certified divers coming 3x/week to clean the oysters so that parasites don't kill them.
- Once mature, you have to hire a technician (usually from Japan) that will surgically implant the necre (shell irritant) into the oyster. The technician can do about 350 oysters a day at $5/oyster
- Then the oysters go in a mesh bag and back in the water for 2 years - if they make it. There is a 30% rejection rate (the oyster spits out the nucleous). Then you get something called a cachet (sp). Not a pearl but pretty to make other jewelry. It occurs when the oyster rejects the nucleous and the graft folds over on itself and makes a flat pearly like substance. Pretty but not a pearl.

It was very interesting and now I know why pearls are so expensive. Final tip - if you want to know if you significant other is trying to pass off fake pearls or real ones on ya...take your pearls and run them across you front teeth. If it feels smooth - FAKE. If it grates - REAL. A real pearl is never absolutely smooth and is still a living organism - like coral. DON'T put them in jewelry cleaner. Water (clean) your pearls in distilled or salt water at least 4x/year or after about 10 years of wear, acid from your skin and drying - your pearls will crack and leave you with nothing but the shell - worth nothing.

After the Pearl Farm, we were transported to a Motu (atoll) for some beach time. Another paradise.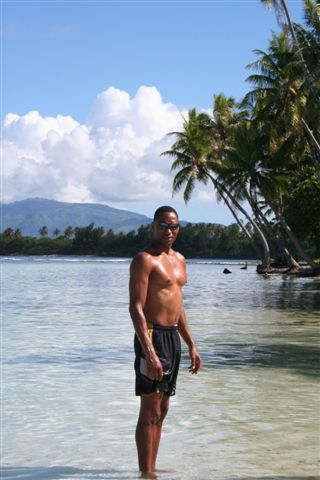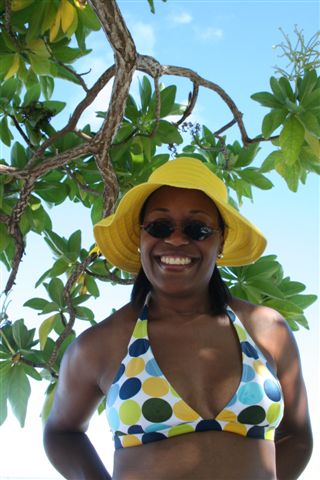 Back at the ship it was Island Night and we all had our island attire on. There was a show with the children of Raiate, champagne fountain, the conga line dance and just a fun party night. We had a wonderful day.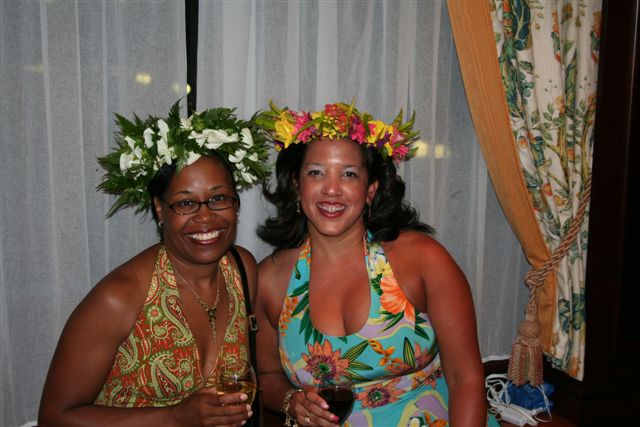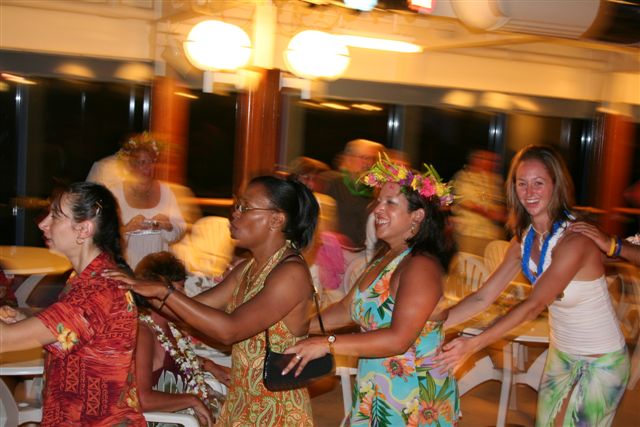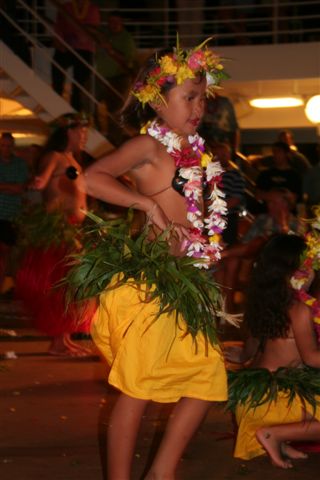 This morning we have pulled out for our 2 hour journey to Bora Bora.